Isle of Wight Society and East Cowes Heritage
SCROLL DOWN FOR THE LATEST NEWS AND EVENTS
Welcome
The Isle of Wight Society
The Society was formed in 1969 by concerned residents in response to poor planning decisions, unsympathetic architectural design and mediocre construction of new developments. One of the first activities was to fight the Government over proposals to site a nuclear power station on the Solent coastline.
The Isle of Wight Society is an amenity and conservation organisation, registered with the Charity Commission, number 276986, and affiliated to the national organisation Civic Voice.
Our Constitution states that the Objects are:
1. To stimulate public interest in the Isle of Wight.
2. To promote high standards of planning and architecture in or effecting the Isle of Wight.
3. To secure the preservation, protection, development and improvement of features of historic or public interest in the Isle of Wight.
The Society achieves the objectives by:
Writing articles for publications and a monthly column in the IOW County Press.
Holding an annual conservation award competition in conjunction with the Royal Institute of British Architects.
Submitting comments on building developments to the IOW Council Planning Department.
Supporting the East Cowes Heritage Centre and other organisations dealing with planning issues.
What makes this Island special?
The character of the Island is basically rural with enough undulations to provide vistas of the countryside, the surrounding sea and the busy sheltered water of the Solent.
The mainstay of the Island is tourism and this is bolstered by marine and engineering industries, some agriculture, forestry and fishing. As a popular retirement destination the care of the elderly is also a factor in the economy.
The geology, from chalk cliffs to sheltered valleys, provides a variety of soils that support a wide selection of flora and fauna
The people who have lived on the Island have left a rich heritage that supports the history of a developing community that has been industrious, involved with civil and international wars and produced some word leading engineering achievements.
Nowhere else in Britain can boast of human history ranging from pre-Neolithic times through to the present day.
East Cowes Heritage Centre
The Isle of Wight Society operates from the Heritage Centre in Clarence Road, East Cowes. The centre is run by volunteers. It is an archive and exhibition space for artifacts and records of the town and the Island. Entry is free but opening times vary. See here.
---
IOW SOCIETY NEWS
---
QUAY ARTS EXHIBITIONSat 27 Oct – Sat 17 Nov 2018
Island Buildings Restored: The Isle of Wight Society
An exhibition celebrating 45 years of Conservation Awards by the Isle of Wight Society.
Sat 27 October to Sat 17 November
10:00am to 5:00pm
FREE ADMISSION
Clayden Gallery, Quay Arts
15 Sea Street, Newport Harbour, Isle of Wight PO30 5BD


GREAT WHITCOMBE MANOR
An update from Ann Pembroke
As a Life Member of the Isle of Wight Society, and receiving the Isle of Wight Society's Conservation Award for works carried out at my home, Great Whitcombe Manor, in 1985, I wanted you both, and my fellow members, to know about my project.
The project is to provide accommodation in the Brew House, incorporating the Byre, to display and exhibit my four collections, for the benefit of education and tourism and to restore the Waggon Shed as a Lecture Hall, Shop and Cafe with public facilities.
To that end, I am building up a team of volunteers who love the Isle of Wight, with its heritage, and wish its culture and history to be recognised. My award of the British Empire Medal from H.M. the Queen in the New Year Honours 2018, for my services to the Cultural History of the City of London, brings me to proffer my expertise and experience for the benefit of the Island.
UPCOMING MEETINGS AND TALKS
Executive Committee Vacancies available for the committee. If you are interested in joining the committee, please call Sarah on 296718 or email burdett.sd@gmail.com
Minutes from the Society Executive Meeting, 12th July.
East Cowes Heritage Centre.
Present. S. Burdett (Chair) D. Burdett, D Conyers,W. Curtis, H Hewston
Apologies. P. White.
Minutes of 19th April approved and signed.
Matters Arising.
1. As decided at the AGM Sarah Burdett is now the Chairperson, David Burdett is Vice Chair and Helena Hewston is a Minutes Secretary. The Constitution changes having been agreed would now be implemented and a copy placed at with other documents at the relevant Bank
Romanov event dealt with in Reports
Con Awards. Date for "Wash Up" meeting not yet decided. Non collected A1 sheets to be handed to Sarah for storage or distribution. HH See more below
Wolverton. Entry will cost £60 Not yet paid for as awaiting response from Age UK. New activities to engage the public needed. HH
Reports
East Cowes Heritage with IOWSoc. Monthly meeting- nothing to report as some confusion over dates and times.
Romanov Event at Barton Manor 7th and 8th July. Successful £523 raised from the Gate, Refreshments and a Donation. 23 helpers assisting throughout (Thank yous notified by email)
involved in the display, stewarding, gate and refreshments.
Next exhibition will be on Frank James Hospital. Autumn exhibition on Classic Boat Museum
Quarterly Stewards Meeting due Mon 16th July.
CPRE Helena attended, gave David's apologies. At their AGM a new Treasurer and Secretary was appointed. There may be a change in CPRE title as it can be perceived as aggressive. Meeting with Dave Stewart has occur. The Steering group, which we attend has a new format. - Discussion occurs as each Report is given. Urban Planning checking by us no longer felt necessary so will cease.
LAF Diana attended and heard many points already expressed about the Norris Castle proposals.
Planning Matters.
David to write to CP. Bob Seely and others to comment on the ALDI Planning Application in relation to the Core Strategy/Island Plan Review and the Regeneration initiatives.
Treasurer's Report
Everything is commiserate with last report and is being updated for next month. See Accounts Sheet attached.
Conservation Awards.
The Northwood Cementary entry is to be entered in the Civic Voice competition under Community Projects. SB
Next year we recommend to RIBA that there is a static display for two weeks at Quay Arts. Provisional booking made for the Claydon Gallery.
Meeting to be arranged SB
50th Anniversary
This is in 2019 Prepare a full page entry for the CP showing 50 yrs of achievement to be inserted next year. SBD, Book Northwood Cementary for the AGM to include talk and walk and tea. SB
Also prepare a programme of Bi-monthly talks using East Cowes Town Hall, A Brannon Print display at Barton Manor.
Utilise photos of Con Awards to make a 50th Anniversary saleable book/booklet.
AOB
Diana- A Ryde Position Planning Statement and Consultation is under way. Stellas group is intending to form a Ryde Society. Perhaps we could persuade them to rejoin us. Toxic small at Ryde- may be coming from Langstone Harbour.
David – Brick Museum – continue to support.
There being no other business the meeting closed at 16.05
Date of next meeting undecided but should be Thurs 16th August 2.30pm Heritage Centre.
_____________________________________________________________________
DESIGN & CONSERVATION AWARDS
The Design and Conservations Awards took place on May 18th at the Royal Yacht Squadron.
A listing of the winners is now on the Conservation Awards page.
---
MEMBERSHIP FEES
Isle of Wight Society Membership was due on 1st January, for those of you who are not life members , or have not renewed already in the last three months.
We would be grateful if you could send cheques made out to "Isle of Wight Society" to East Cowes Heritage Centre, 8 Clarence Road, East Cowes, Isle of Wight PO32 6HT,
or make a BACS payment on line quoting your name as reference, the IWS sort code is 30-95-99 and the account number is 00331217.
Membership is £12 for single members, Joint Full £20; Seniors £10 and Joint Seniors £18
Meetings are held at East Cowes Heritage Centre on the fourth Tuesday of the month and all are welcome.
There are vacancies on our Executive Committee at present as one member has just retired and another has family health problems, so if you are interested in joining us with a more hands on approach on planning issues, let me know.
IWS Conservation Awards for 2019. Entries are being sought for these prestigious awards and should be entered by 14th February 2019. Details and entry forms are on our Isle of Wight Society website so please have a look and if you have seen any restoration projects, or new builds in keeping with their surroundings please let the developers know so that they can enter. Awards evening will be at the Royal Yacht Squadron Pavilion in May 2019.
Looking forward to seeing you at some of our meetings or events,
Kind Regards, Sarah Burdett BEM, Secretary to the Executive.
---
East Cowes Heritage celebrated their 25th anniversary on 7th October 2017 at East Cowes Town Hall.
Members of the public were able to see 56 display boards about East Cowes. These showed old maps, estate plans, sales documents, aerial views and many other large exhibits. The earliest dated from 1743, right up to aerial views of the town in the 1990s. The growth of the town immediately after WWII was shown by plans of the numerous estates built to replace houses bombed during the war and for the many extra skilled workers needed by the aircraft manufacturer Saunders Roe in the early 1950s.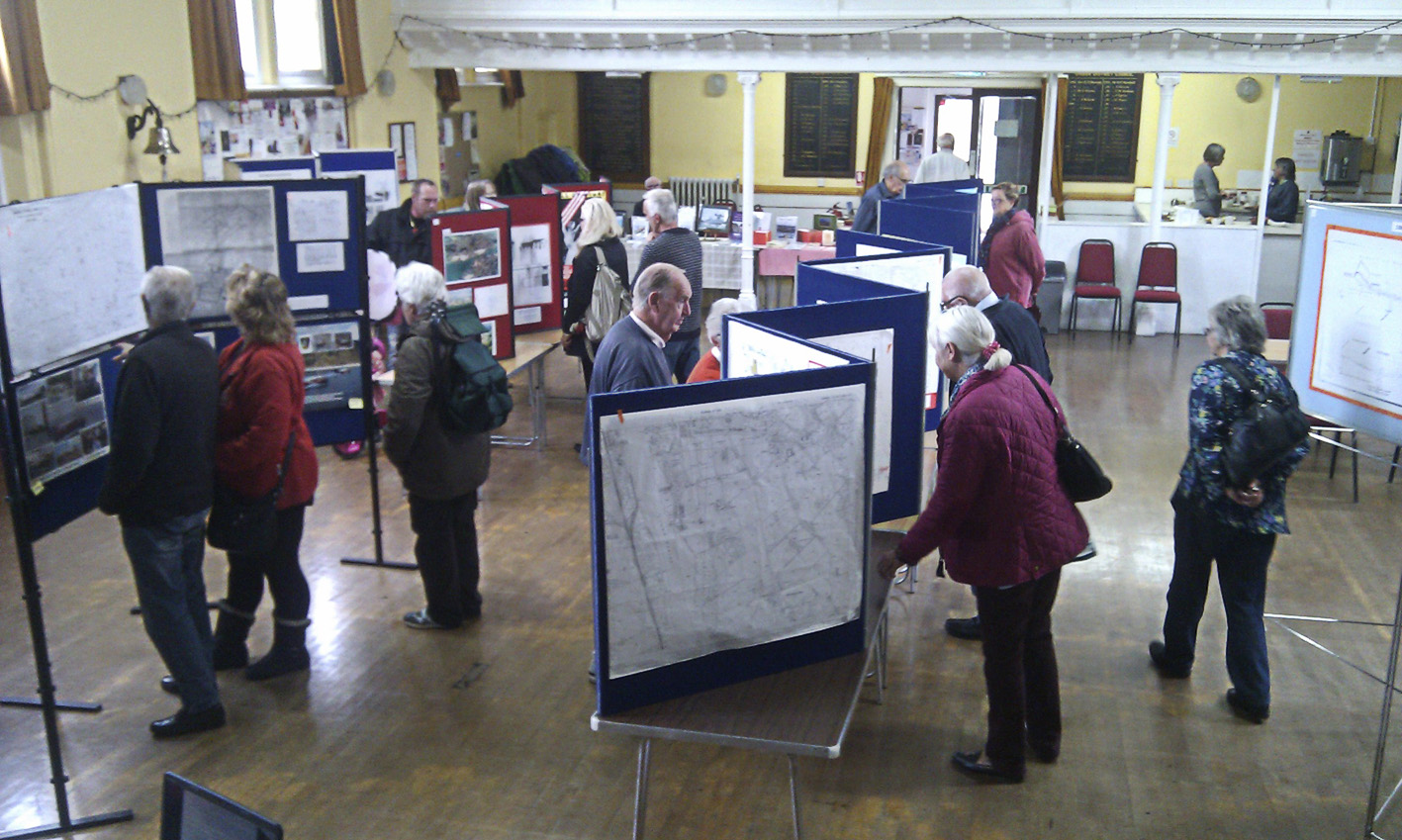 This exhibition could not have been created 25 years ago as the material was dispersed throughout the community. By having an open door policy with free admission this encouraged residents to bring in material and information including some that otherwise would have been destroyed.
Initially the volunteers at the Heritage Centre thought that the town's history would be collected within two years. 25 years later they are still learning about our rich and fascinating past. Their experience has shown that every community needs a depository – somewhere where historic material can be collected and hopefully represented to its community.
Dr Ruth Waller gave an excellent talk about the archaeology of East Cowes, amazing the audience with the details of what has been found in the town even from our Mesolithic past. East Cowes was at the forefront of technology even then!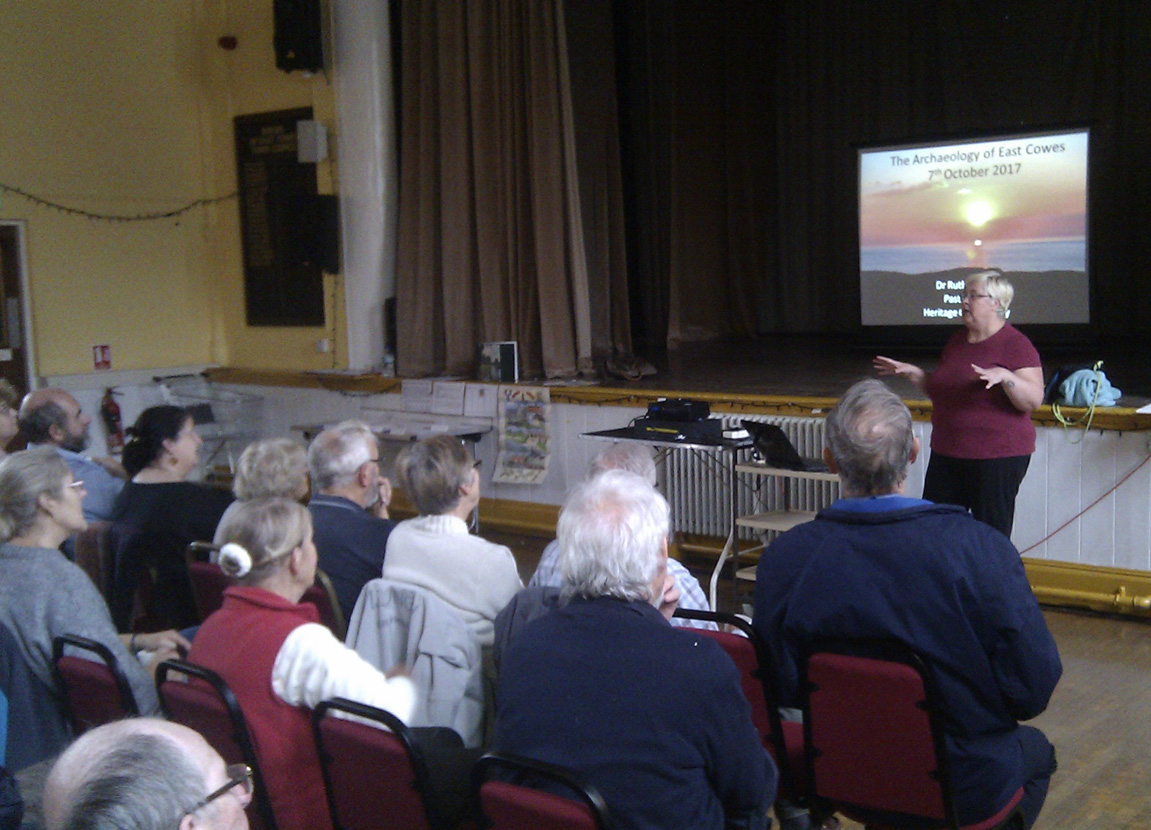 Over the last 25 years, over 63,000 people have visited the East Cowes Heritage Centre. The extensive collection of reference files available for research covers all aspects of East Cowes, from shops to sports clubs, streets to submarines, aircraft manufacture to farming and everything in
between.
Currently Godwins' old shop in Ferry Road is undergoing restoration and a poster advertising jeans in the 1960s from the wall was given to the Heritage Centre last week by the new owners, who also found adverts for the shop stuck to the walls.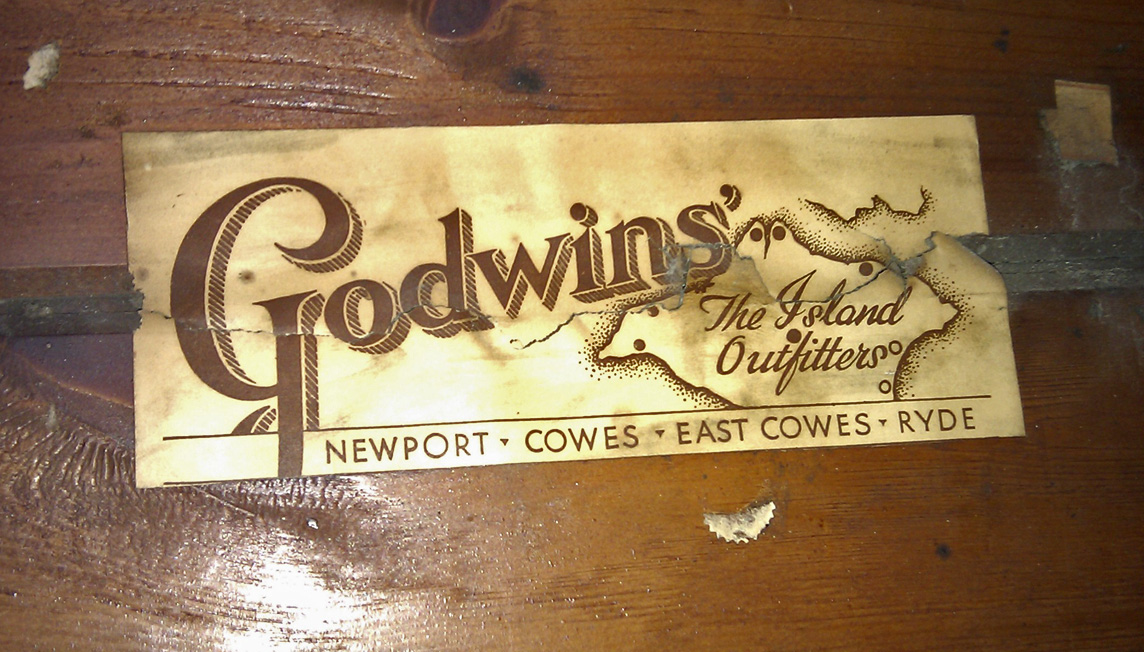 Books on local East Cowes history are on sale at East Cowes Heritage Centre. These have been sent all over the world to friends, relatives, and past residents of the town. From this, even more material has been received at the Centre.
New stewards are always welcome to help, and the friendly bunch of volunteers finds there is always plenty to do. The Centre is open from 10a.m. until 1p.m. daily except Sundays, and until 4p.m. on Wednesdays.
The new temporary exhibition looks at the changes that have taken place in East Cowes over the last 25 years. Entry is free.
East Cowes Heritage hopes that it will be going strong for another 25 years. Historians then will be pleased to find how much has already been done to record the history of the town.
---
Current concerns
The Island Council is permitting housing development in line with Government targets, it also has a PFI contract for the maintenance of the roads. The Island has fairly comprehensive medical services with strong links to Southampton and Portsmouth hospitals.
Floating Bridge issues.
Housing developments, devolution of services and infrastructure support feature greatly in the present political climate. The Society, along with other bodies, are monitoring the issues and are voicing their concerns.
The developments in and of East Cowes in conjunction with Red Funnel Ferries.
---
---
Major planning developments for the 1. The Red Funnel Terminal and 2. Victoria Quays in West Cowes are also under consideration.
The Red Funnel plans have been passed on appeal. For further details go to IOW Council planning web page. Ref: TCP/31812/B and TCP/32737
The East Cowes group of the Isle of Wight Society are concerned at the height of the landmark tower apartment blocks proposed next to the Barracks on the seafront and have written objections.