May 2017
Isle of Wight Awards
by Helena Hewston

This Friday, 19th May, is the annual awards ceremony for Conservation and Design organised by the Isle of Wight Society and the Royal Institute of British Architects. It is being held at the Royal Yacht Squadron in Cowes. Tickets available from the Heritage Centre in East Cowes.

This celebration is a showcase of the of buildings and landscape showing the care and improvement achieved particularly over this last year. It includes the ideas of the young whose awareness of imaginative design is essential for the future of architecture and conservation.

When travelling around the Island to do the judging it is evident that new materials fashion the end results and that there is a constant update of the way owners of homes and businesses modify their views on what is visually pleasant and affordable. Comfort plays a large part in decisions.

Among this year's contestants are; Northwood House where the collapsing ceiling revealed short cuts in construction requiring major repairs and detailed repainting; Niton Church where steeple repairs needed research and experiment to achieve the historic mortar mix to achieve the colour and strength of blend required; Tapnell Farm where dairy farm buildings are conserved to provide a new recreation centre; Green mount school buildings providing a range of accommodation from studio flats to family homes to re-cycle the Victorian shell in it's urban site; business ventures at Haven Hall as a wedding venue and a recycled chapel at The Man in the Moon; plus the domestic improvements in the east and west of our Island.
These developments are not necessarily in Conservation Areas but they make a big contribution to the character of the Isle of Wight.

Conservation Areas tend to be in urban settings and in June a celebration is being organised through Civic Voice, a national body, to give people an opportunity to explore these by through organised walks. The first Conservation Area was designed in 1969 and included parts of Brighstone, Carisbrooke, Newport, Ryde, Shorwell and Yarmouth while the most recent in 2012 is at Church Place in Freshwater. Some have Listed Buildings in them which would add to the interest of the walk.

Last year's winner for both Conservation and Design was the Band Stand on Sandown sea front. It was unusual in that the one building should receive both awards but the work to restore the building and still conserve its place in the history of the town is justifiable. It has been short listed nationally for a Civic Voice mark of recognition. What will be as good this year?

The Awards ceremony has been in place for over 40 years so there are quite a few blue plaques to see around the Island such as Brading Villa, East Cowes Coast Guard Cottage, Quarr Abbey and Osborne House but there are also gems in restoration in Brighstone, Shorwell and Ventnor. Take a walk and see how many you can find.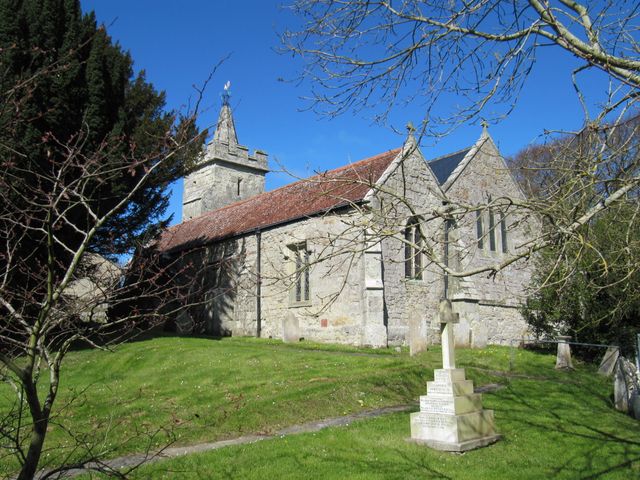 Niton Church
[Go Back]