July 2017
Make hay while the sun shines!

Travelling around the Island in early summer you can't help noticing the wonderful hay fields, shimmering with grasses bending their purple seed heads in the soft breeze. When the grass is ready, and the weather is settled, the cutters come along and swathes of grass lie drying in the sun. The grass is turned to dry the other side then the bailers appear in the fields. We generally see enormous round bales in the fields awaiting collection by fork units on a tractor. In some fields there are also the rectangular bales that can be lifted by hand. The bales are loaded onto trailers to go to the barns at the farm for storage, food for the livestock for the next winter.

This week farmers have started to harvest their grain crops.

But what happened in the old days? A new exhibition sponsored by Down to the Coast has just opened at Briddlesford Lodge Farm Hop Kilns Heritage Centre that explains haymaking through the years.

One thing that has certainly disappeared from our farms is the hay rick, storing several tons of hay. There was an art in stacking hay, and then thatching it to make it weather tight. There was also an art in cutting hay from that stack for use, leaving the thatch to keep the hay dry.

Thatchers were important people. At the County Records Office is a little account book dating from 1804 for Padmore Farm, Whippingham. A woman was paid a shilling (5p) a day for casual work at haymaking time, while the reapers, using scythes, earned 2s.6d. (25p) a day. Once the stack was made, it cost 10s.6d to get it thatched. Making and storing hay was expensive.

Prince Albert, fifty years later, tried out a new system for his hayricks at Barton Manor. These were large metal frames to support the ricks off the muddy ground.

These supports should not be confused with the stone "mushrooms" that we see decorating gardens today. These "staddle stones" had a very serious purpose. They were used to support raised wood built grain stores to make try to make them rodent proof. A rat could not negotiate the stone overhang.

We still have some of these grain stores on the Island today. That at Apesdown on the Calbourne Road is a classic example, and can be seen easily from the road. Harding Shute Farm near Nunwell also has one.

At Haseley there is a grain store on staddle stones that has brick infill between the wood framework. Some of this is in herring bone pattern. Most grainstores were simply built of wood with wood cladding. Another example like that at Haseley sits proudly at the Weald and Downland Museum near Chichester, moved from its original setting.

Today's grain silos, metal "rocket" shapes, are so different from the old.

Keep your eyes open while travelling around our rural Island for other old grain stores on their staddle stones.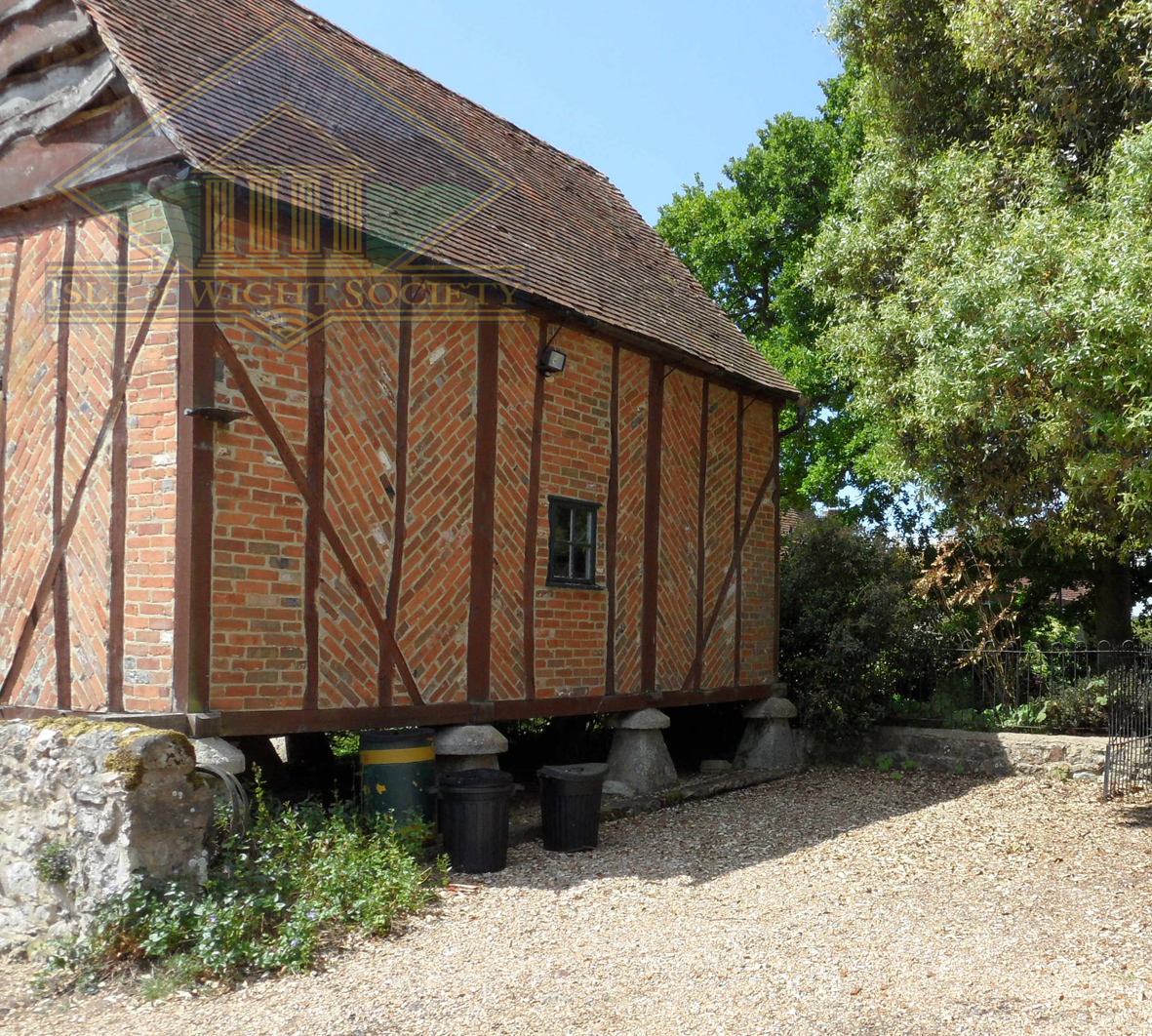 [Go Back]