February 2018
The use of glass in modern buildings
By Sarah Burdett
Things continuously change. We have to live with change. Technology has produced new materials for the construction industry. This is impacting on the appearance of the buildings around us. Good design produces buildings that live comfortably with their surroundings.
Across the Island we are seeing an increase in the use of new materials in new designs. Many of us will have seen a couple of these through the Grand Design television programme. All these sit within a landscape of varied architectural styles such as Tudor, Elizabethan, Georgian, Victorian and art deco etc.
The material that has supported the major change of the 20th and 21st centuries is glass. Its varied history concerns both the way it is manufactured and the way it is used.
Crown glass was spun at the end of a blowing tube to produce a disc of glass. Small panes would be cut from this, with the centre portion of glass retaining the 'bull's eye' where it was attached to the metal rod. We see these glass panes in old buildings until the mid 19th century. By then, cylinder glass became common. A tube of glass was blown, then cut open and flattened.
A window tax introduced in 1691resulted in several houses bricking up many of their windows to save paying the tax, but this was repealed in 1851. This gave an impetus to glass manufacture and plate glass soon followed, which allowed larger panes of consistent thickness.
In the 1970s a limit was put on the percentage of single glazed windows to room size due to the heat loss. Then came double glazing and the limit was removed.
Today we see building designs where a whole external wall will be of glass. The construction of a pane of glass allows it to be altered from clear to opaque and to have different levels of insulation. While glass can be made in different shapes, the panels are mainly flat. This leads to the architecture being rectangular or boxlike.
Glass can be used as suitable dividing link between an old structure and a new extension. The buildings remain separate, but joined.
A building is basically a box used for a specific purpose. What has made them different in the past has been the external decoration. While glass is not part of a building's decoration, its reflective qualities are increasingly being used by architects to make the building more interesting by reflecting the sky or aspects of its surroundings.
Historians will look back on this period as the transition from pitched roofs covered in slate, chimneys, decorated gables and the use of coloured brickwork to that of contrasting rectangular shapes with a high percentage of glass. The change of style in some cases is dramatic and it will be interesting to see how well the styles sit alongside each other.
Lion Tree House, Yarmouth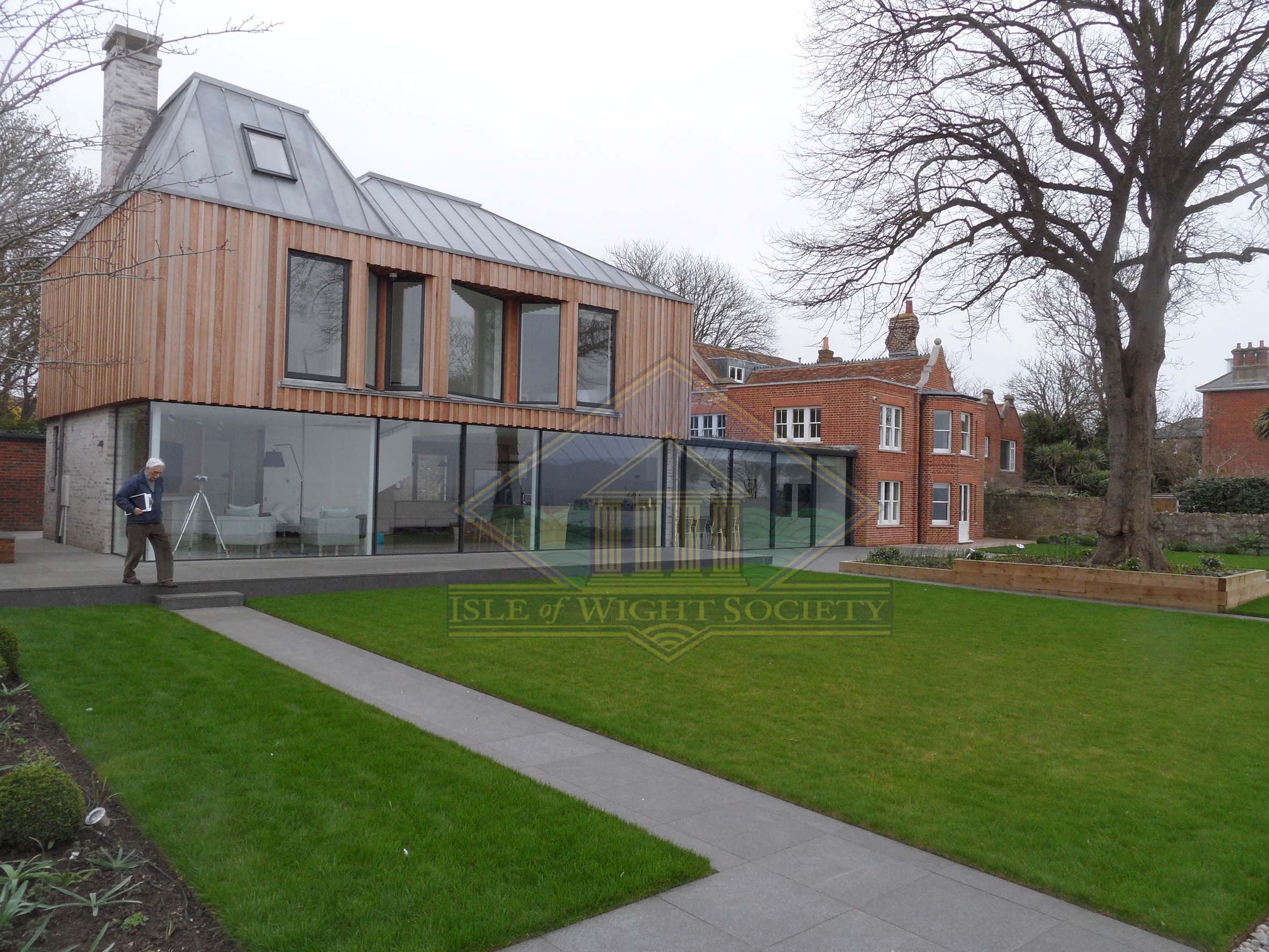 [Go Back]