May 2018
Strong stone slab roofs
Last month our article was about thatched roofs. Where old roofs are steeply pitched, they were often of thatch. This is not such a durable material as tiles, so as funds became available many old houses were given clay tile roofs.
At Mottistone Manor the acuteness of the roof angle suggests that it may once have been thatched. The local building material here is green sandstone, used for the Mottistone Manor house walls, half a metre thick.
The same green sandstone could also be split to provide roof tiles, and several courses of stone tiles were laid on the lower section of the roof at Mottistone. The biggest tiles overhang the walls, giving more protection to the walls. Those walls also support the greater weight of the overlapping stone tiles. Going up the roof, gradually the size of tile diminishes, in thickness and area, as the rafters have to support the full weight of the roof.
Eventually the minimum thickness of tile that can be split is reached. Thereafter, the roofer had to use clay tiles to achieve the lighter weight that the rafters could support.
We have several buildings on the Island where stone roof tiles can be seen. Often only three or four courses of stone tile were laid. Many are on the "Back of the Wight", where the green sandstone was the local stone. At Shorwell, Wolverton Manor has five rows of stone tiles, before continuing upwards with clay tiles, and Westcourt Manor has a similar roof. Hannover House is another example of a house with courses of stone tiles.
In Newport, how often do you go past the Old Grammar School? Next time, look up at its roof. At Carisbrooke the parish church of St. Mary's will repay a walk around the church yard with a wonderful close up view of the arrangement of stone tiles, especially over the south porch. As a point of interest, the tower is the tallest medieval parish church tower in the Isle of Wight or Hampshire.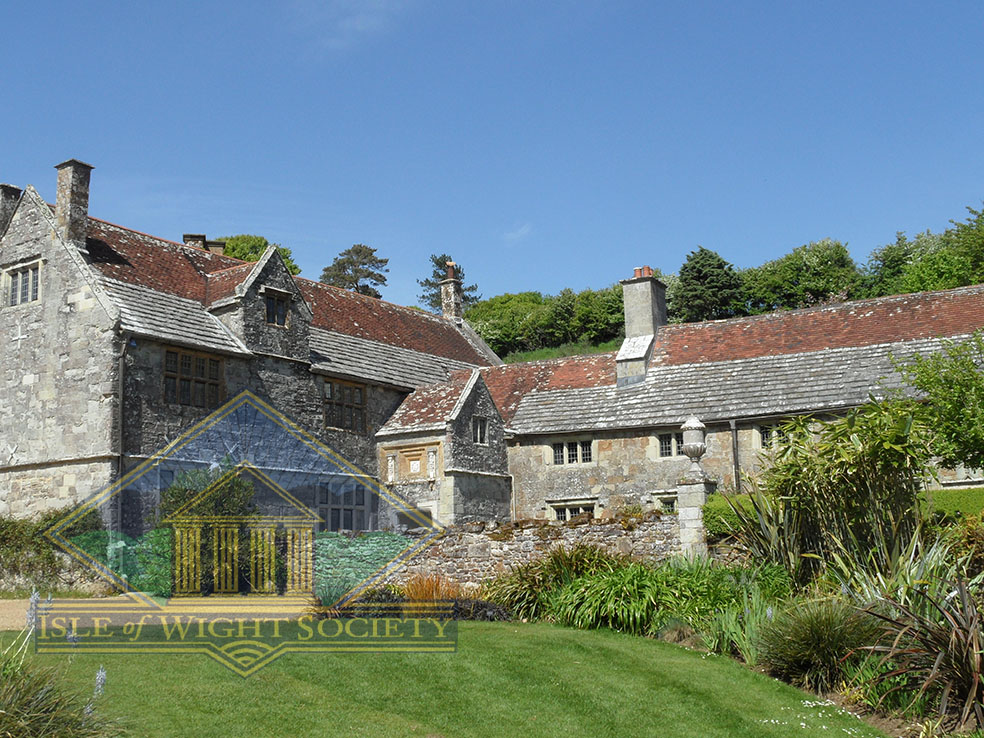 Mottistone Manor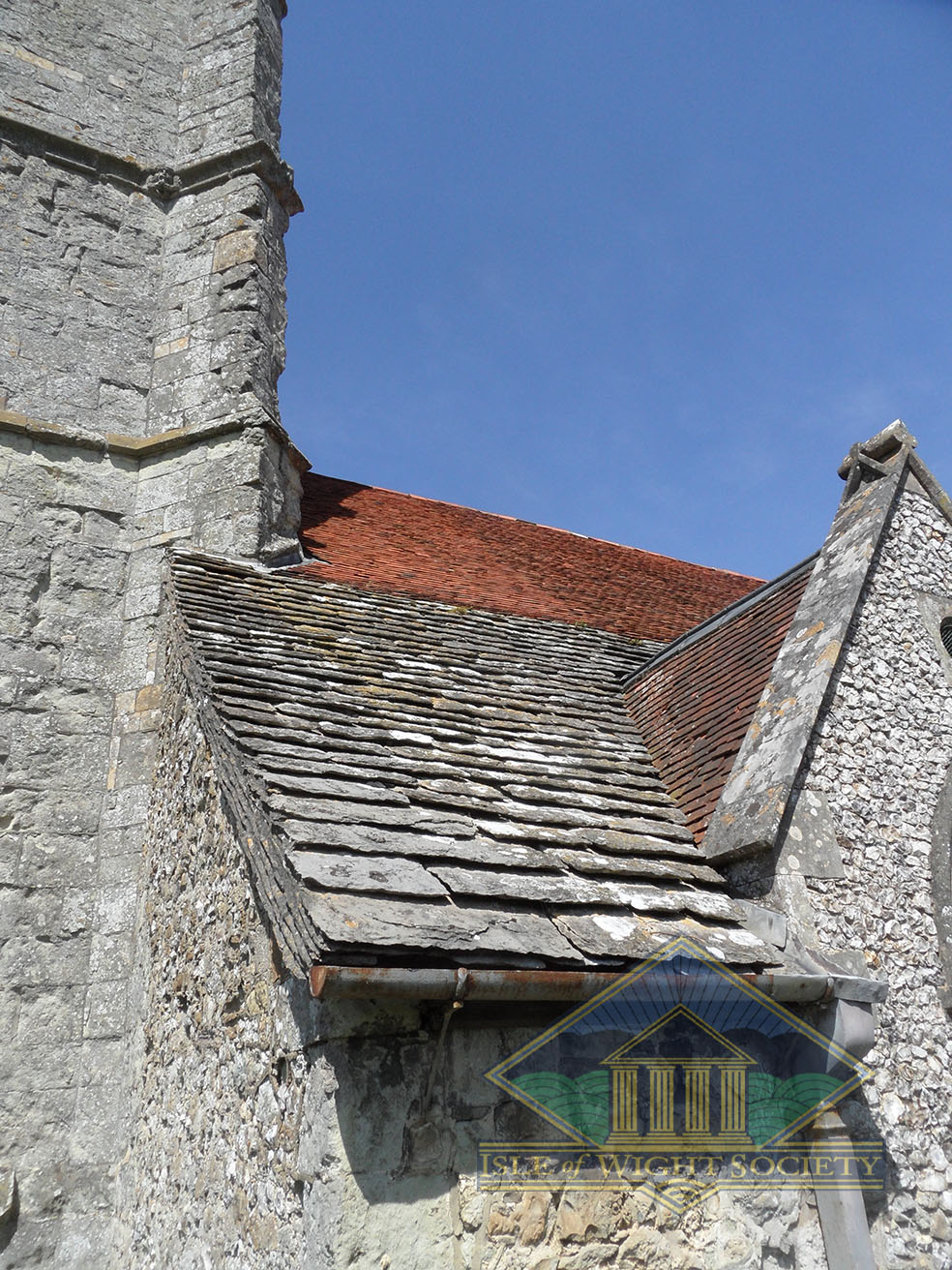 Carisbrooke Church detail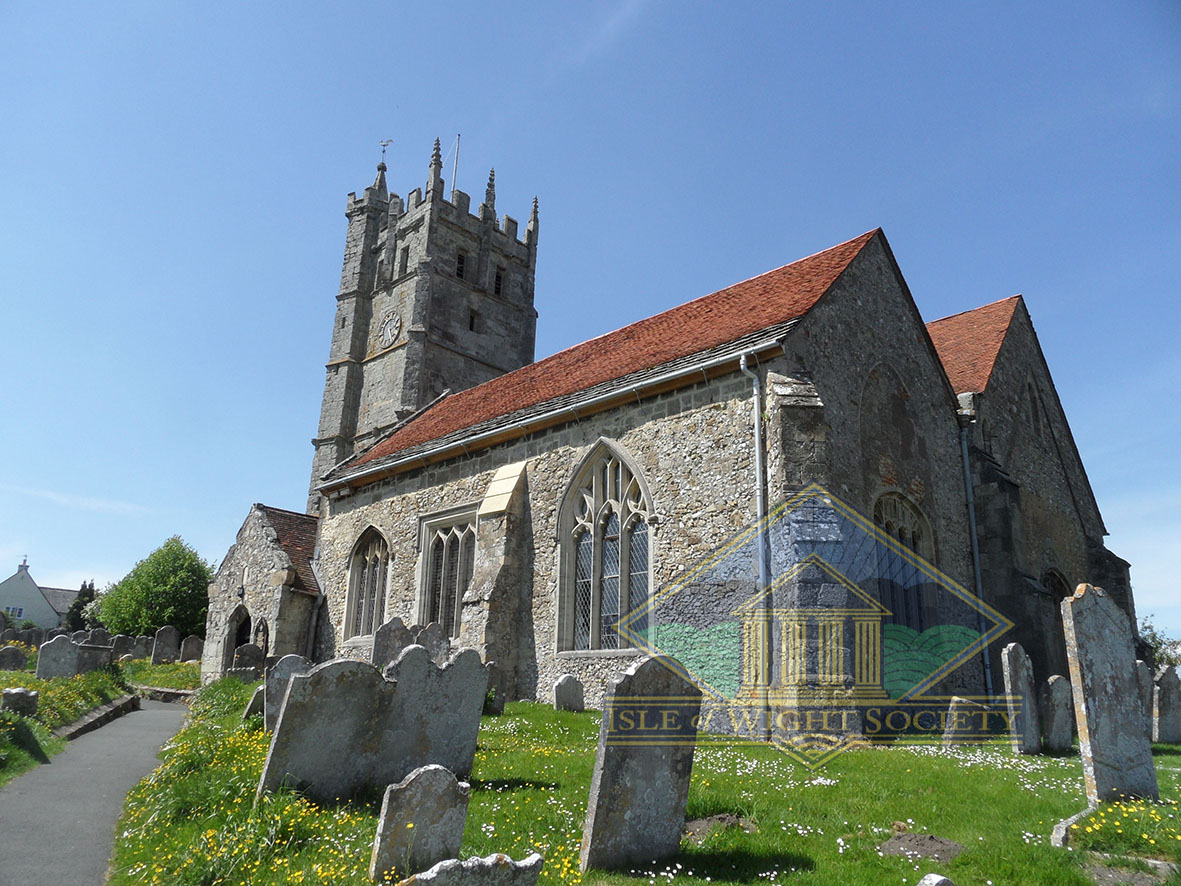 Carisbrooke Church
Spare a thought for those men who made the stone tiles, transported them and laid them on the roof. There were no metal scaffolding poles, and no "Health and Safety" in those days, just wooden ladders and wooden scaffolding. And we can still see their work, if we look up to the roof.
[Go Back]